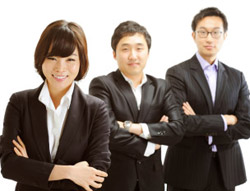 Use your language fluency to enhance your career options! Become a Korean/English legal interpreter.
The University of Georgia's Korean/English Legal Interpreter Certificate Program is a 30-hour classroom training program designed for bilingual individuals who speak English and Korean and work in, or desire to work in, the legal field or a court system.
This program prepares you for the State Court Interpretation Certification Test so you can assist Korean-speaking persons who come before the Courts.
The Korean/English Legal Interpreter Certificate Program covers:
Ethics of Interpreting
Legal interpreting terminology in English and Korean
Korean/English linguistics skills
Analysis of the legal environment for Korean-speaking people
Development of integrated interpreter skills
Cultural aspects of the Korean community
Practice examinations to determine level of competency
Practice scenarios for simultaneous, consecutive, and sight interpreting
Job Outlook: According to the U.S. Department of Labor, interpreters and translators can expect much faster than average employment growth over the next decade due to the increase in the number of foreign language speakers in the United States and the broadening of international ties.
Course Date:
Saturday, September 14, 2013
-
Saturday, October 12, 2013
Course Date Info:
Saturdays, September 14, 21, 28, October 5, 12, 2013
9 a.m. to 4:30 p.m.
Location:
University of Georgia Gwinnett Campus
2530 Sever Rd NW, Lawrenceville, GA 30043
United States
See map:
Google Maps
Who Should Attend:
Interpreters and translators currently employed in the legal field or court systems
Independent interpreters
Interpreters with other interpreting credentials, such as those who have completed the Korean/English Medical Interpreter Certificate Program or the Professional Interpreter in Education Certificate Program
Individuals seeking employment in the legal field or in court systems
Individuals seeking their first professional interpreting certificate
Paralegals, administrative assistants, front office staff, receptionists, social workers, etc. who are bilingual in Korean and Spanish
Continuing Education Information:
3.0 CEUs awarded/Certificate of Program Completion
Timely completion of assignments is required including the successful completion of written and oral assignments. Your attendance is required at all five sessions in order for you to receive your "Certificate of Program Completion."
Certification or Licensure Information:
The State of Georgia test is a separate process, involving additional time and fees. The University of Georgia program is a preparatory program only.
Instructor:
Jung Wook Lee is a Georgia licensed attorney concentrating in immigration law, family law, and personal injury. Prior to entering law school, Ms. Lee worked in Washington, D.C. and has various legal experiences. Ms. Lee received her B. A. in English from the University of North Carolina at Chapel Hill and J. D. from Quinnipiac University School of Law. Ms. Lee also serves as a board member for the Gwinnett chapter of the Georgia Association for Women Lawyers and also was the President of the Korean American Coalition-Atlanta. Ms. Lee has over six years of courtroom experience.
Prerequisite Courses:
There is no prerequisite other than you must consider yourself bilingually fluent (Korean and English). Should you not meet the language requirement, no refund of course fee will be given. Contact the Professional and Personal Development office for more details.
Textbooks Requirements:
A course manual is included with the course fee. You will be expected to bring a recording devise to be used in all sessions.