This camp is now full.
"Experience Engineering at UGA" with Summer Academy and the College of Engineering! Live as an engineer for a week by thinking, planning, designing, fabricating, and proving designs with an expansive engineering toolkit of software, tools, and equipment. Enjoy a project-based program that's fun, informative, and creative, with a bit of competition. By the end of the week, you'll be excited about engineering, with ideas to change the world, and a better understanding of what engineers do.
Ages:
15-17
Date:
Monday, July 17, 2023 to Friday, July 21, 2023
Cost:
Day Camp - $470
Residential Camp - $1120
Optional Lunch Voucher (Day campers only) - $60
Instructor: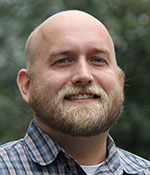 Dr. Ben Thomas is an instructor in the College of Engineering at the University of Georgia. He teaches a wide variety of classes including engineering graphics, computational methods, mechanical engineering design, numerical methods, and machine hydraulics. Ben is a triple dawg, receiving his bachelor's, master's, and doctoral degrees from UGA. His bachelor's degree is in agricultural engineering with a focus in mechanical systems and his post graduate degrees focus on advanced microscopy. With his diverse engineering background, Ben has worked on a wide range of projects from designing a roll over protection systems for tractors, to designing adjustable mounts for specialized optical equipment, and programing advanced image processing applications. He recently developed an outreach program in which undergraduate student members of the local chapter of the National Society of Black Engineers (NSBE) mentor STEM students at Burney-Harris-Lyons Middle School. This is Ben's fourth year as a Summer Academy Instructor.