Summer Academy Registration Closes Soon!
Register now for this camp
Look around: everything has a logo! Your clothes? They have logos! Your computer? It's filled with logos! Everything has a logo. Come explore the complexity and importance of graphic logo design in our society in this fascinating one-week camp. Learn about and practice logo techniques using digital and traditional haptic methods. Try out your newly acquired skills to create unique custom logo designs! Who knows? Perhaps this might be your first step in creating the next iconic logo.
Ages:
13-17
Date:
Monday, June 26, 2023 to Friday, June 30, 2023
Cost:
Day Camp - $450
Residential Camp - $1100
Optional Lunch Voucher (Day campers only) - $60
Instructor: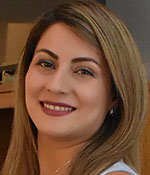 Sahar Aghasafari is an Assistant Professor in Art and Graphic Design at the University of South Carolina Lancaster. She received her Ph.D. in Art Education from the University of Georgia. She has more than ten years of teaching experience as a faculty and lecturer at universities, and she's taught as a full-time teacher at K-12 schools. This is Sahar's sixth year as a Summer Academy instructor.
Megan Driscoll has a background that spans several creative fields, including television production, painting, writing, architecture, and design instruction. Her professional experiences have included producing for CNN and The Washington Post, video freelancing for National Geographic, managing conservation programs with the National Aquarium, and community planning for Habitat for Humanity. Megan has also founded a media company, written a children's book, and has instructed at UGA in Graphic Systems and Graphic survey studio art courses. Her passion is helping people experience the joy of interacting closely with the natural environment, fulfilling their purposes as stewards and neighbors by creatively working together to build beautiful communities based on respect and kindness. This is Megan's sixth year as a Summer Academy instructor.