This introductory class is designed to expose students to the complexity and importance of typography in our society. You will learn about and practice typographic techniques using digital and traditional haptic methods to increase your understanding of the discipline. Students will be able to implement a final project to develop a broadside/lyric poster and typography. This poster may be inspired by lyric videos and songs you love.
Students should leave the class with an ability to discuss typography with designers more robustly, allowing them to be more productive members of a project team or informed members of the citizenry.
Ages: 13-17
Course Number:
Course Date:

Monday, June 13, 2022

to

Friday, June 17, 2022

Course Date Info:

Day and Overnight Options Available
9:00 a.m. - 4:00 p.m.
Extended Day available until 5:30 p.m.
Overnight students check-in on Sunday night at residence hall

Address:

UGA Center for Continuing Education & Hotel

1197 South Lumpkin Street, Athens, GA 30602

United States

US

Location Info:

Overnight students will check in at the residence hall on Sunday evening and check out on Saturday morning. Day students will check in on Monday morning between 8:30 - 9:00 a.m. Classrooms are located around campus, and students may travel by foot, bus or university vehicle to get to classrooms or other camp activities. More details will be available in your confirmation email and in the welcome email sent out three weeks before camp begins.

Cost:

Day Camp - $450

Optional Lunch Voucher - $55
Optional Extended Day until 5:30 PM - $45
Overnight Camp - $600 additional
Prerequisites:
Students are required to provide a resume and images for the digital portfolio. Students will receive an e-mail with a resume template for their digital portfolio and instructions after they register.
Instructor: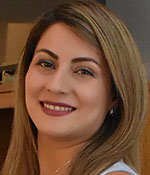 Sahar Aghasafari is a Ph.D. Candidate in Art Education in the Franklin College of Arts and Science Lamar Dodd School of Art at the University of Georgia. She has two master's in art education from the University of Arizona and Art Research from the University of Tehran and a B.F.A in Fabrics Design from the University of Tehran. She has more than ten years of teaching experience as a faculty and lecturer at universities in Iran, and she's taught as a full-time teacher at K-12 schools in the U.S. Currently, she is teaching Graphic Design at Lamar Dodd School of Art, University of Georgia. This is Sahar's fifth year as a Summer Academy instructor.
What you need for camp/program:
A detailed list of supplies needed for your camp program will be emailed to you two weeks before camp begins.