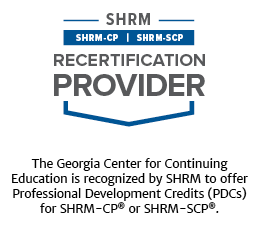 Lean Six Sigma combines methodologies that help companies solve problems, make decisions, and improve business processes. Lean Six Sigma techniques are now being used by all types of organizations to reduce waste, improve customer service, and reduce costs.
The University of Georgia offers beginning and advanced-level programs to teach you the skills needed for leading Lean Six Sigma project teams.
(Online)
The course covers the Six Sigma philosophy, DMAIC methodology, the Lean method of reducing waste, graphical analysis tools, and statistical methods.  In addition, a case study addresses regulated industries, manufacturing problems, R&D, marketing and office operations.
(Online)
As a certified Lean Six Sigma Green Belt, you'll be able to use proven techniques for solving quality problems and improving processes in healthcare organizations. This course explores Lean Six Sigma methodologies via healthcare-specific, authentic learning exercises and discussion topics.
(Online)
The program prepares you to apply Lean Six Sigma skills as a strong leader who directs critical projects. As a Lean Six Sigma Black Belt, you will be able to drive quality improvement, increase customer satisfaction and improve bottom line results for your organization. Black Belts are uniquely qualified to lead cross-functional teams and to analyze data using a broad array of graphical and statistical tools.