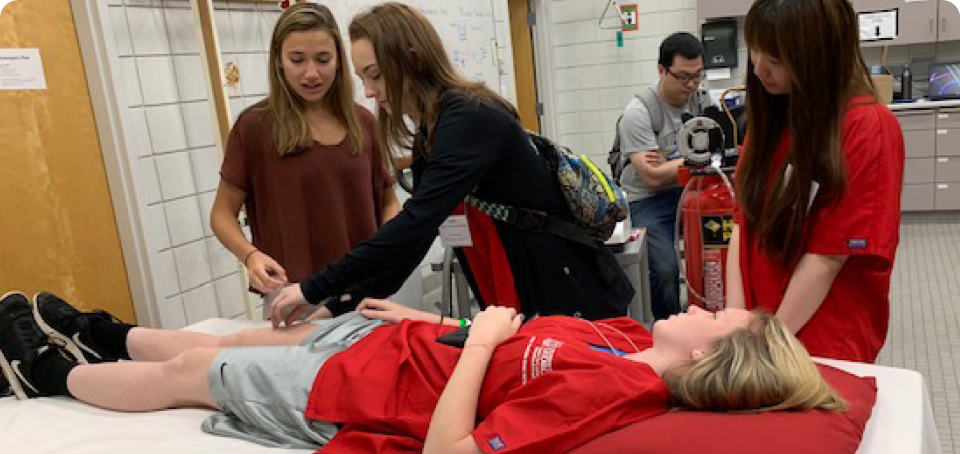 Applications have closed.
Candidates selected for the Health Careers Youth Conference will need to review the enrollment agreements and complete the medical form.
Interested in a potential future career in healthcare? This is the conference for you! The Foothills Area Health Education Center and the University of Georgia Center for Continuing Education have joined forces to help recent and soon-to-be high school graduates get on the path to a career in the healthcare industry. Join us for three days on the UGA's historic Athens campus, as we explore possible paths to healthcare careers.
Join us for:
Ample information on various careers in healthcare, including educational requirements, occupational outlook, and potential salary ranges
Valuable college preparation and admissions information
Engaging hands-on learning activities with UGA faculty, such as the Cellular Biology Lab dissection, the Cadaver Lab, the Kinesiology Labs, the Veterinary Teaching Hospital tour, and more
Amazing tours of the UGA Campus & Facilities
Delicious meals at the UGA Dining Commons
Date:
The conference will take place June 13 - 15, 2023, 9:00 a.m. - 4:00 p.m.
Location Info:
Check-in and dismissal/pick-up of students will be at the  UGA Center for Continuing Education & Hotel located at 1197 South Lumpkin Street, Athens, GA 30602
Cost:
Registration fee ($135) includes daily lunch, snacks, attendee parking, intercampus transportation, and special gifts.
Transportation:
Conference sessions and activities will be held on the UGA Athens campus. Transportation between campus locations will be provided.

Students are responsible for transportation to and from campus for the conference each day. UGA will provide inter and intra-campus transportation during the conference.
Who Should Attend:
High school students graduating in 2023, 2024, or 2025 who are interested in pursuing a career in healthcare, and have a GPA of 3.0 or greater based on HOPE calculations. Upon acceptance into program, students must have a transcript reflecting their GPA sent to the program coordinator before May 1st, 2023.
Scholarships:
Limited need-based financial aid is available to students attending the conference for the first time. To be considered for financial aid, submit an application via email to our program coordinator, providing an unofficial copy of their High School transcript and a 50-word (minimum) statement addressing the following questions:
Why should you be awarded a scholarship to attend this conference?
Would you be able to attend this conference without a scholarship?
A limited number of scholarships are available, so please submit your application as soon as possible.
College Scholarship Eligibility:
Completion of this conference meets the "Intensive Program" eligibility requirement for the Foothills Area Health Education Center college scholarship application.
What to Wear:
Attendees to this conference should wear comfortable business casual attire. Participants will engage in hands-on activities, so comfortable clothing and closed-toe walking shoes are recommended. T-shirts are not allowed. Shorts, skirts, and dresses should be no shorter than 5" above the knee. Absolutely no heels over 1". On Wednesday, students must wear black or khaki pants or skirts along with the scrub top that will be provided.
Registration Information:
Program Contact:
Johanna Miller, Health Careers Coordinator
Foothills AHEC, Gainesville, GA
(770) 219-8136
Johanna.Miller@nghs.com
Registration Contact:
The Georgia Center
(706) 542-3537
(800) 811-6640
Supporting Associations: