Spark registration is now open
Register for this Course
In this immersive weekend American Sign Language course, students will become familiar with basic fingerspelling, as well as vocabulary and grammar to construct simple sentences. By the end of the weekend, students will be able to use what they've learned to construct basic sentences for conversation and storytelling. This is an excellent opportunity for beginners or those wanting to practice ASL with a community of peers.
| | |
| --- | --- |
| Ages: | 13-16 |
| Date: | Saturday, October 21, 2023 to Sunday, October 22, 2023 |
| Time: | 10:00 a.m. - 3:30 p.m. |
| Cost: | $120 |
Course Number:
Location Info:
Instructor: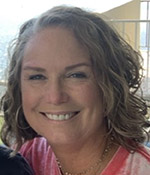 My name is Lynn Gossett and I'm deaf. I'm married to John and we are parents of two CODA sons. Our oldest son, Paul, graduated from UGA and is currently at the University of Texas law school. Our second son is in his second year at Georgia College & State University. I work part time as a substitute teacher for the Forsyth County school system.
I grew up in Albany, Georgia. I'm the only deaf person in my family, and I attended a small private school where I was the only deaf student.
n March of 1998, I saw the news about Gallaudet University's huge protest about the "Deaf President Now" movement in Washington D.C. That is when I decided to apply and attend Gallaudet University in the Fall of 1988. That summer, I had to do a three-week ASL "crash" course before attending classes. A couple of years later, I became a counselor/teacher for that same ASL crash course for new signers. I proudly graduated from Gallaudet.
We are proud Georgians and UGA family. Go Dawgs!