This is a workshop designed to cover basic computer to circuit interaction using the ELEGOO UNO Project Super Starter Kit with Arduino. Utilizing the kit and working from a set of objectives, students will have the chance to work with programming language and develop an understanding of the way circuits communicate with computers. Students who might be interested in a career with circuits and coding will have the chance to ask questions of experts and inquire further about how they can grow and expand with this type of work into the future.
Camp Learning Objectives/Goals
Garner an understanding of programming concepts used in Arduino.
Conceptualize and create circuits using the ELEGOO kit.
Visualize the communication between computers and circuits to generate output.
Ages: 13-17
Course Number:
Course Date:

Saturday, October 9, 2021

to

Sunday, October 10, 2021

Course Date Info:
Address:

UGA Center for Continuing Education & Hotel

1197 South Lumpkin Street, Athens, GA 30602

United States

US

Location Info:

Students will check in on Saturday morning between 9:45 and 10:00 a.m. Some classrooms are located around campus, and students may travel by foot, bus or university vehicle to get to classrooms or other camp activities. More details will be available in your confirmation email and in the welcome email sent out three weeks before camp begins.

Cost:
Prerequisites:
This course is appropriate for students with some coding experience. See the section below titled "What you need for camp" for further details. If your student does not have any coding or computer science experience, please consider registering for our Junior Hackers workshop.
Instructor: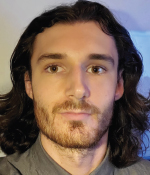 Connor McRae is a recent Computer Science graduate from UGA, and he is planning to apply for an MBA in STEM to continue his education. He professionally writes scripts for data analysis and logistics and has participated in multiple hackathons in college. In his free time, he enjoys strategy and card games as well as outdoor activities, like hiking and camping. He also enjoys VR space, and as a result his side projects typically involve video game design for virtual reality. This is Connor's first year as a Georgia Center Youth Programs instructor.
Assistant Instructor:

Sarah Peterson is a rising second-year undergraduate student at UGA majoring in Mechanical Engineering with a minor in Computer Science. In her spare time, she enjoys drawing and other creative outlets including small coding projects. In high school, she was Vice President of her coding club and oversaw the robotics portion of all projects in her engineering class. This is Sarah's first year as a Georgia Center Youth Programs assistant instructor.
What you need for camp/program:
You will need the Arduino Uno robotics kit. It is available at Amazon.
Please look for the camp outline for required program supplies in your parent information e-mail sent three weeks before your program.