This camp is now full. Apply for the waitlist.
If you're a middle or high school student interested in learning the basics of American Sign Language (ASL), this unique camp is the opportunity you've been waiting for! This stimulating summer learning opportunity blends excitement, education, and enjoyment in an environment to lay the foundation for bilingual communication. You will work directly with instructors from the Georgia Center of the Deaf and Hard of Hearing to develop your signing skills and learn the ABCs, numbers, and basic signs that can be used in both a school and theatrical setting. Note: This course is primarily designed for hearing youth who want to learn American Sign Language.
Ages:
12-17
Date:
Monday, June 12, 2023 to Friday, June 16, 2023
Cost:
Day Camp - $440
Residential Camp - $1090
Optional Lunch Voucher (Day campers only) - $60
Prerequisites:
This course is designed for all hearing youth interested in American Sign Language. Ideal for those who have members of their family, school, or community who are deaf; or those who may want to eventually expand their skills to interpreting or special needs education.
Instructor: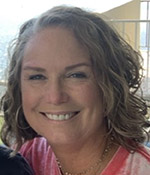 My name is Lynn Gossett and I'm Deaf. I'm married to John and we are parents of two CODA sons. The oldest son, Paul graduated from UGA and is currently at University of Texas law school. Our second son is in his second year at Georgia College State University. I work part time as a substitute teacher for Forsyth county school system.
I grew up in Albany, GA. I'm the only deaf person in my family and I attended a small private school where I was the only deaf student.
In March of 1998, I saw on the news about Gallaudet University huge protest about the "Deaf President Now" movement in Washington D.C. That is when I decided to apply and attend Gallaudet University in the Fall of 1988. That summer I had to do a 3 week ASL "crash" course before attending classes. A couple of years later I became a counselor/teacher for that same ASL crash course for new signers I proudly graduated from Gallaudet.
We are proud Georgians and UGA family. Go Dawgs!
Hello my name is Isabella Rodriguez and I am from Marietta, Georgia. I am Hard of Hearing and I am graduating from the University of Georgia in May 2023 with a Communication Sciences and Disorders major and a minor in American Sign Language. I transferred to UGA from Gallaudet University in January of 2021. At Gallaudet University I learned a lot about ASL, the Deaf community/culture and about myself as well. At Gallaudet University I was on the Women's Volleyball Team and my position was Libero. Next year I will be at the University of Florida studying Audiology.