American Sign Language (ASL) summer youth camp is designed for middle and high school students up the age of 17 years old. This camp will provide a stimulating summer learning and experimental opportunity that blends excitement, education, and enjoyment in an environment to lay the foundation for bilingual communication. Designed to help adolescents learn short phrases and sentences in American Sign Language to be used in a school and theatrical setting. Note: This course is primarily designed for hearing youth who want to learn American Sign Language.
Ages: 13-17
Course Number:
Course Date:

Monday, July 18, 2022

to

Friday, July 22, 2022

Course Date Info:

Day and Overnight Options Available
9:00 a.m. - 4:00 p.m.
Extended Day available until 5:30 p.m.
Overnight students check-in on Sunday night at residence hall

Address:

UGA Center for Continuing Education & Hotel

1197 South Lumpkin Street, Athens, GA 30602

United States

US

Location Info:

Overnight students will check in at the residence hall on Sunday evening and check out on Saturday morning. Day students will check in on Monday morning between 8:30 - 9:00 a.m. Classrooms are located around campus, and students may travel by foot, bus or university vehicle to get to classrooms or other camp activities. More details will be available in your confirmation email and in the welcome email sent out three weeks before camp begins.

Cost:

Day Camp - $440

Optional Lunch Voucher - $55
Optional Extended Day until 5:30 PM - $45
Overnight Camp - $600 additional
Prerequisites:
Students will be required to have taken American Sign Language 1 through our Summer Academy or have equivalent experience with American Sign Language to participate in this course. For seeing if your student qualifies to skip American Sign Language 1, please send an email to youth@georgiacenter.uga.edu so we can evaluate your child's experience alongside the instructors.
Instructor: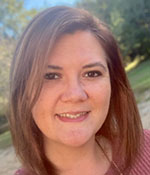 Maria Ruckel is a proud Deaf woman who hails from Covington, GA. As a child, she attended Atlanta Area School for the Deaf (AASD) where she learned American Sign language (ASL) and Deaf culture. Growing up, she developed the passion to educate friends, family, neighbors her native language-ASL. She led ASL Club for 3 years at Salem High School in Conyers, GA where she also graduated from. She attended GA State University (GSU) and earned a degree in Early Childhood Education in 2011. She obtained certification in Deaf Education in 2014. Currently, she is an elementary teacher at AASD and have been teaching there for 11 years. She is a proud mother of 2 teenager sons and 5 fur-kids. In her spare time, she loves watching movies, shopping, and making crafts.
What you need for camp/program:
A detailed list of supplies needed for your camp program will be emailed to you two weeks before camp begins.