Summer Academy Registration Closes Soon!
Register now for this camp
Are you a middle or high school student ready to build on your basic/intermediate skills and understanding of American Sign Language (ASL)? Working directly with instructors from the Georgia Center of the Deaf and Hard of Hearing, you will reinforce your signing skills and practice short phrases and sentences that can be used in a school and theatrical setting. Note: This course is primarily designed for hearing youth who want to learn American Sign Language.
Ages:
13-17
Date:
Monday, June 26, 2023 to Friday, June 30, 2023
Cost:
Day Camp - $440
Residential Camp - $1090
Optional Lunch Voucher (Day campers only) - $60
Prerequisites:
Students will be required to have taken American Sign Language 1 through our Summer Academy or have equivalent experience with American Sign Language to participate in this course. To see if your student qualifies to skip American Sign Language 1, please send an email to youth@georgiacenter.uga.edu so we can evaluate your child's experience alongside the instructors.
Instructor: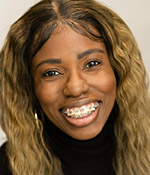 Jamila Hubbard was born profoundly deaf and has been all her whole life. She graduated with a Master's in teaching ASL: K-12 World Language. Pushing aside her career as an ASL teacher, she loves to go out and take pictures, and watch the action and documentary movies based on true stories. She owns a puppy named Milano the Boston Terrier.
Hello my name is Isabella Rodriguez and I am from Marietta, Georgia. I am Hard of Hearing and I am graduating from the University of Georgia in May 2023 with a Communication Sciences and Disorders major and a minor in American Sign Language. I transferred to UGA from Gallaudet University in January of 2021. At Gallaudet University I learned a lot about ASL, the Deaf community/culture and about myself as well. At Gallaudet University I was on the Women's Volleyball Team and my position was Libero. Next year I will be at the University of Florida studying Audiology.