This camp is now full. Apply for the waitlist.
Ever wondered about how the built environment around you took shape? Do you have an interest in sustainability, sculpture, and/or building? Do you enjoy imagining solutions to design problems that have never been attempted? What does it mean to think like a designer anyway? If you answered 'yes' to any of these, SAUGA's 2023 Architecture camp might be the ideal place for you!
Join us as we discuss the meaning of architecture and explore some of the discipline's many applications while learning about sustainable practices, structural concepts, historical context, and representational techniques in the design of an individual residence. Explore your interest in architecture and gain insight into how its practice may be relevant to your future through lectures, group discussions, a field trip to an inspirational museum, and, most importantly, plenty of time devoted to interactively workshopping design ideas!
Ages:
13-17
Date:
Monday, July 10, 2023 to Friday, July 14, 2023
Cost:
Day Camp - $460
Residential Camp - $1110
Optional Lunch Voucher (Day campers only) - $60
Instructor:
Megan Driscoll has a background that spans several creative fields, including television production, painting, writing, architecture, and design instruction. Her professional experiences have included producing for CNN and The Washington Post, video freelancing for National Geographic, managing conservation programs with the National Aquarium, and community planning for Habitat for Humanity. Megan has also founded a media company, written a children's book, and has instructed at UGA in Graphic Systems and Graphic survey studio art courses. Her passion is helping people experience the joy of interacting closely with the natural environment, fulfilling their purposes as stewards and neighbors by creatively working together to build beautiful communities based on respect and kindness. This is Megan's sixth year as a Summer Academy instructor.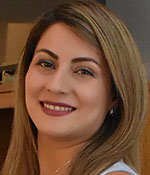 Sahar Aghasafari is an Assistant Professor in Art and Graphic Design at the University of South Carolina Lancaster. She received her Ph.D. in Art Education from the University of Georgia.She has more than ten years of teaching experience as a faculty and lecturer at universities, and she's taught as a full-time teacher at K-12 schools. This is Sahar's sixth year as a Summer Academy instructor.