Learn about the world of engineering through this impactful, one-week camp. This week-long residential camp, designed for students from underrepresented and underserved populations, uses the B.L.A.C.K. – Building Leaders through Analysis, Conceptualization, and Knowledge – experience to explore engineering through the following lenses:
Building - students will learn and practice the engineering design process through hands-on projects
Leaders - students will develop and practice oral and written communication skills to prepare them as future leaders
Analysis - students will understand how to analyze information and data relevant to solving engineering problems
Conceptualization - students will create and design ethical engineering solutions
Knowledge - students will build upon their current math, physics, and science courses to expand their understanding of these concepts in relation to engineering
Ages: 15-17
Course Number:
Course Date:

Monday, July 18, 2022

to

Friday, July 22, 2022

Course Date Info:

Day and Overnight Options Available
9:00 a.m.-4:00 p.m.
Extended Day available until 5:30 p.m.
Overnight students check-in on Sunday night at residence hall

Address:

UGA Center for Continuing Education & Hotel

1197 South Lumpkin Street, Athens, GA 30602

United States

US

Location Info:

Overnight students will check in at the residence hall on Sunday evening and check out on Saturday morning. Day students will check in on Monday morning between 8:30 - 9:00 a.m. Classrooms are located around campus, and students may travel by foot, bus or university vehicle to get to classrooms or other camp activities. More details will be available in your confirmation email and in the welcome email sent out three weeks before camp begins.

Cost:

The cost of this camp is fully covered by the scholarship.
Prerequisites:
Some basic knowledge of math and physics may be helpful, but this course is designed for high school students with little to no experience in engineering.
Instructor: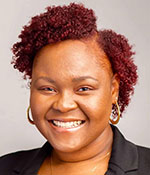 Dr. Racheida S. Lewis is an Assistant Professor at the University of Georgia in the Engineering Education Transformations Institute (EETI) and the Department of Electrical and Computer Systems Engineering. She has been recognized as a Gates Millennium Scholar, GEM Associate Fellow, New Horizon Scholar, and a 2019 inductee into the Bouchet Honor Society. She completed her doctoral work at Virginia Tech where she focused on the impact matriculation structures have on self-efficacy development in electrical and computer engineering students. As well, she received a Bachelor of Science and Master of Engineering in Electrical Engineering from Virginia Commonwealth University and the University of Virginia respectively. Racheida believes in creating a diverse engineering field and strives to do so through connecting with teaching, and mentoring future engineers. She has devoted her life to this mission through her leadership and lifetime membership in the National Society of Black Engineers. Ultimately, Racheida aspires to bridge together research and pedagogy within the academy to improve engineering education within the field and across disciplines. This is Racheida's first year as a Summer Academy Instructor.
What you need for camp/program:
A detailed list of supplies needed for your camp program will be emailed to you two weeks before camp begins.