In our Advanced Comic Book Camp, you'll work on fine-tuning your drawing technique and develop your inking skills. The class will explore more complex ways to design characters, write dialogue, choose dynamic angles, and develop a storyline. You'll participate in guided drawing activities and critiques, designed to hone your technical and critical thinking skills. Much of your time each day will be spent working on a final project of your own creation, which will be scanned and published electronically in the Annual Summer Academy Comic Book Anthology. See the prerequisite section below to find out if this camp is appropriate for you.
Ages: 13-17
Address:

UGA Center for Continuing Education & Hotel

1197 South Lumpkin Street, Athens, GA 30602

United States

US
Prerequisites:
This course is designed for students who have several years of experience in structured art or drawing classes, or who have attended at least two years of our beginning and intermediate Comic Book camp. Students in this camp tend to be serious about their drawing and focused on their work; students with a more general interest in comic book art are encouraged to sign up for Comic Book 1: Basics and Intermediate.
Instructor: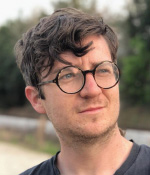 Phil Jasen graduated from the University of Central Florida with a B.F.A in Drawing/Printmaking and from the University of Georgia with a M.F.A in Printmaking. He has been at the University of Georgia for the last six years, teaching foundations drawing, intermediate drawing, and figure drawing. His work is regularly exhibited and seen in venues such as; the Lyndon House Arts Center (Athens), Museum of Contemporary Art Expansion (Atlanta), and the Wonder Fair (Lawrence, Kansas). He specializes in drawings, illustration, zines, hand bound books, and intaglio, and is very excited to share his love of art, comic books and graphic novels. This is Phil's seventh year as a Summer Academy instructor.