This camp is now full.
Interested in careers in the film, television, radio, online, mobile, and other new media industries? Come explore the exciting entertainment field and what it encompasses. Gain valuable skills for conceiving what stories are worth telling while also gaining valuable insights about those stories' implications in society. Learn the basics of content production, from screenwriting to digital editing, and work on a project to showcase in your portfolios.
Ages:
13-17
Date:
Monday, June 19, 2023 to Friday, June 23, 2023
Cost:
Day Camp - $440
Residential Camp - $1090
Optional Lunch Voucher (Day campers only) - $60
Instructor: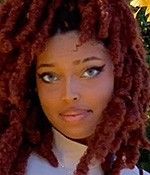 Kimberlee Smith is a second-year graduate student at the University of Georgia. She received her bachelor's degree in Communication & Media Studies in 2021 at Reinhardt University. She was the only black female senior-level Communication major at her university. Smith also has a minor in Media Writing and Digital Media Arts. She is proficient in Creative Writing, Digital Storytelling, Scriptwriting, and Video Editing.
At Grady College, Kim has served as the graduate assistant for the Georgia Scholastic Press Association. This is her second year teaching EMST for the Summer Media Academy.