Explore the world of engineering in this exciting, hands-on camp! Discover the variety of different roles that engineers play in the world, and see many of the fields engineering can be applied to, including architecture, transportation and aerospace. We'll learn the basics of mechanical, structural, electrical, and control system engineering, and discover the scientific principles at work behind them, including Newton's laws, work, energy, simple machines, friction, gravity, heat, electricity, and fluid forces. You'll get the chance to participate in hands-on activities and friendly competitions, as we build structures, vehicles, catapults, and rockets. Time will be available to discuss topics of interest to the students as the week progresses.
Ages: 11-14
Course Number:
Course Date:

Monday, June 27, 2022

to

Friday, July 1, 2022

Course Date Info:

Day and Overnight Options Available
9:00 a.m.-4:00 p.m.
Extended Day available until 5:30 p.m.
Overnight students check-in on Sunday night at residence hall

Address:

UGA Center for Continuing Education & Hotel

1197 South Lumpkin Street, Athens, GA 30602

United States

US

Location Info:

Overnight students will check in at the residence hall on Sunday evening and check out on Saturday morning. Day students will check in on Monday morning between 8:30 - 9:00 a.m. Classrooms are located around campus, and students may travel by foot, bus or university vehicle to get to classrooms or other camp activities. More details will be available in your confirmation email and in the welcome email sent out three weeks before camp begins.

Cost:

Day Camp - $450

Optional Lunch Voucher - $55
Optional Extended Day until 5:30 p.m. - $45
Overnight Camp - $600 additional
Prerequisites:
Some basic knowledge of math and physics may be helpful, but this course is designed for high school students with little to no experience in engineering.
Instructor: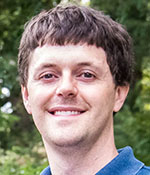 Adam Wineland is a lecturer in the College of Engineering at the University of Georgia. He teaches engineering graphics and design and serves as a mentor for students working on various design projects. Adam earned his bachelor's degree in Mathematics from North Georgia College and State University and his master's degree in Engineering from the University of Georgia. Outside of class, Adam enjoys playing video games with his two sons and judging youth science fair competitions while encouraging younger generations to join the light side of the STEM force. This is Adam's second year as a Summer Academy instructor.
What you need for camp/program:
A detailed list of supplies needed for your camp program will be emailed to you two weeks before camp begins.