Summer academy registration is now open!
Register now for this camp
Discover the world of engineering in this fun, hands-on camp! Learn about engineers' different roles in the world, like in architecture, transportation, and aerospace. Explore mechanical, structural, electrical, and control system engineering. Investigate the scientific principles behind engineering, like Newton's laws, friction, gravity, and more. Participate in dynamic activities and friendly competitions as we build structures, vehicles, catapults, and rockets! We'll also be talking about other topics of your interest as the week goes on.
Ages:
11-14
Date:
Monday, July 10, 2023 to Friday, July 14, 2023
Cost:
Day Camp - $450
Residential Camp - $1100
Optional Lunch Voucher (Day campers only) - $60
Prerequisites:
Some basic knowledge of math and physics may be helpful, but this course is designed for middle school students with little to no experience in engineering.
Instructor: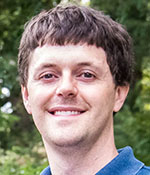 Adam Wineland is a lecturer in the College of Engineering at the University of Georgia. He teaches engineering graphics and design and serves as a mentor for students working on various design projects. Adam earned his bachelor's degree in Mathematics from North Georgia College and State University and his master's degree in Engineering from the University of Georgia. Outside of class, Adam enjoys playing video games with his two sons and judging youth science fair competitions while encouraging younger generations to join the light side of the STEM force. This is Adam's third year as a Summer Academy instructor.