Introductory Photography is ideal for students who are curious about photography and want to learn more about the fundamentals of making pictures. This course will be an introduction to both the technical aspects of photography (camera settings, correct exposure, lighting, etc.) as well as artistic strategies for creating an image. We will also cover the basics of photo editing (using a free online platform) to help your pictures stand out. Along the way, you'll be introduced to historical and contemporary photographers for inspiration. A DSLR camera is suggested for this camp, but not required. Students can also use a point-and-shoot digital camera or a cell phone camera. This course will focus on how to create dynamic images no matter what kind of camera you have access to.
Ages: 13-17
Course Number:
Course Date:

Monday, July 11, 2022

to

Friday, July 15, 2022

Course Date Info:

Day and Overnight Options Available
9:00 a.m. - 4:00 p.m.
Extended Day available until 5:30 p.m.
Overnight students check-in on Sunday night at residence hall

Address:

UGA Center for Continuing Education & Hotel

1197 South Lumpkin Street, Athens, GA 30602

United States

US

Location Info:

Overnight students will check in at the residence hall on Sunday evening and check out on Saturday morning. Day students will check in on Monday morning between 8:30 - 9:00 a.m. Classrooms are located around campus, and students may travel by foot, bus or university vehicle to get to classrooms or other camp activities. More details will be available in your confirmation email and in the welcome email sent out three weeks before camp begins.

Cost:

Day Camp - $450

Optional Lunch Voucher - $55
Optional Extended Day until 5:30 PM - $45
Overnight Camp - $600 additional
Prerequisites:
This course is designed for students with little to no background in photography.
Instructor: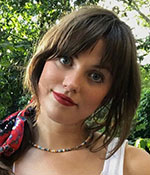 Rosie Brock is a photographer based in Athens, Georgia. She is currently in her final year of the MFA Studio Art program at the University of Georgia, where she instructs the undergraduate course, Introduction to Photography and Image Culture. Brock holds a BFA in Photography and Video from the School of Visual Arts in New York City. Her work has been published by Oxford American and Photo District News. Recently, she has completed editorial assignments for The New Yorker, The Atlantic, and The New York Times. This will be Rosie's third year as a Summer Academy instructor.
What you need for camp/program:
Your camera (cell phone cameras are fine)
Camera battery or charger
SD or CF card reader and/or camera cable (for uploading images to the computer)
Snacks and water bottle