When we think of our favorite movies, we often remember the actors, the directors, and the ways in which the story unfolds visually. But we sometimes forget, before the movie was directed and performed, it was written! In this introductory camp, you will learn how to tell a story visually, which includes creating compelling narrative and tight dialogue. You will also learn the accepted screenwriting format. At the end of camp, your screenplay will be distributed to students in our Digital Film Advanced Intensive Camp, who may select your work for production.
Ages: 13-17
Course Number:
Course Date:

Monday, July 11, 2022

to

Friday, July 15, 2022

Course Date Info:

Day and Overnight Options Available
9:00 a.m. - 4:00 p.m.
Extended Day available until 5:30 p.m.
Overnight students check-in on Sunday night at residence hall

Address:

UGA Center for Continuing Education & Hotel

1197 South Lumpkin Street, Athens, GA 30602

United States

US

Location Info:

Overnight students will check in at the residence hall on Sunday evening and check out on Saturday morning. Day students will check in on Monday morning between 8:30 - 9:00 a.m. Classrooms are located around campus, and students may travel by foot, bus or university vehicle to get to classrooms or other camp activities. More details will be available in your confirmation email and in the welcome email sent out three weeks before camp begins.

Cost:

Day Camp - $440

Optional Lunch Voucher - $55
Optional Extended Day until 5:30 PM - $45
Overnight Camp - $600 additional
Prerequisites:

This course is designed for students with an interest in screenwriting. Before your first day of camp, please fill out the Screenwriting Questionnaire.
Instructor: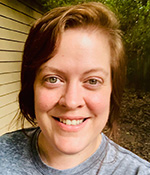 Gabrielle Sinclair Compton is a PhD student in Theatre and Performance Studies at UGA. She earned her MFA in playwriting from the Actors Studio Drama School, and before that she studied and performed long-form improv comedy at theaters and festivals around the country. Her research interests include minimalist immersive theatre practices, the performance of parenthood, and experimental strategies in developing new work. While at UGA, Gabby wrote and directed her sci-fi short film Listen with a grant from UGA's Willson Center and last fall co-wrote UGA's mainstage theatrical adaptation of Alcestis. She is currently playwright-in-residence for the NYC company Hidden Well Theatre. This will be Gabby's third year leading UGA's Summer Academy screenwriting camp.
What you need for camp/program:
Laptop or Chromebook
Notebook, pen/pencil
One small-ish object (can be ANYTHING, but please nothing irreplaceable or expensive) that you will incorporate into different activities and exercises throughout the week