Thinking about college? Now is the time to start preparing! In our University Prep Program, you'll receive the guidance and advice you need to feel more confident and prepared for your academic future. We'll de-mystify the college application process, share financial aid and scholarship resources, and help you find schools that fit your academic goals and extra-curricular interests. You'll attend workshops and seminars on topics such as Personal Statement & Essay Writing, and work to improve your team-building skills while tackling real-world problems that face college students nationwide. Not only will this program help you prepare to apply to the schools of your choice, but it will open your eyes to the exciting and fun experiences that college can offer. Overnight students will stay in a residence hall on the beautiful University of Georgia campus, eat in the dining commons, swim at Legion Pool, and explore campus and downtown Athens. This program is the perfect starting point for your college career! You should expect an academically rigorous experience that challenges you to think about your future, and encourages you to become a leader in addressing issues that will affect you during your college career.
Ages: 16-17, or students who will be high school juniors or seniors in Fall 2022.
Course Number:
Course Date:

Monday, June 6, 2022

to

Friday, June 10, 2022

Course Date Info:

Day and Overnight Options Available
9:00 a.m.-4:00 p.m.
Extended Day available until 5:30 p.m.
Overnight students check-in on Sunday night at residence hall

Address:

UGA Center for Continuing Education & Hotel

1197 South Lumpkin Street, Athens, GA 30602

United States

US

Location Info:

Overnight students will check in at the residence hall on Sunday evening and check out on Saturday morning. Day students will check in on Monday morning between 8:30 - 9:00 a.m. Classrooms are located around campus, and students may travel by foot, bus or university vehicle to get to classrooms or other camp activities. More details will be available in your confirmation email and in the welcome email sent out three weeks before camp begins.

Cost:

Day Camp - $450

Optional Lunch Voucher - $55
Optional Extended Day until 5:30 p.m. - $45
Overnight Camp - $600 additional
Prerequisites:
Students must be seriously interested in pursuing college academics. University Prep students must demonstrate maturity and responsibility.
Instructor: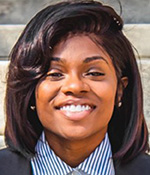 Hailing from Atlanta, Georgia, Insley Davis is an expert in video production and consumer trends. Her prior work includes set production with Netflix and editing for news entertainment media network, Hollywood Insider. Insley is an enterprising visionary who is able to exercise creative reasoning to gain insights that move, inform, and engage a wide range of audiences. She adapts quickly to transform abstract ideas into well-researched, coherent campaigns for neighborhood and community brands, blogs, and radio stations. Davis has a Bachelor's degree from The Fort Valley State University and a Master's degree in Public Relations from University of Georgia. Insley looks forward to being back on campus, working with academically driven students to provide insight, advice, and guidance regarding the college application process, knowing what resources are available on campus, and how to make the best of your college experience. This will be Insley's first year working with Summer Academy.
What you need for camp/program:
U-Prep students are required to bring a laptop or tablet in order to participate meaningfully in both group and independent projects throughout this program.