Are you a rising high school Junior or Senior thinking about attending college? Now is the time to start preparing! In our week-long University Prep (U-Prep) program, you'll receive the guidance and support you and your family may need to feel more confident and prepared through the college choice process.
Through the U-Prep program, instructors will de-mystify the college application process and help students build a college list that matches their academic and personal goals or interests. Student campers will attend workshops and seminars on topics such as college essay writing, building a professional resume, and understanding state and federal financial aid programs. Campers will also experience a wide range of guest speakers from the University of Georgia who will offer advice, tips, and tricks that every incoming college student needs to succeed. U-Prep's programming will prepare students to tackle the transition from high school to college and will encourage the formation of habits needed to establish a healthy lifestyle while in college.
The U-Prep program is the perfect starting point for students who are just beginning to prepare for college, but it is also a great next step for students who have already begun to prepare but need additional support. If you have any specific questions about the topics covered or if this camp would be the right fit for you, please contact us via email at summeracademy@georgiacenter.uga.edu.
Ages: 16-17, or students who will be high school juniors or seniors in Fall 2021
Course Number:
Course Date:

Monday, June 14, 2021

to

Friday, June 18, 2021

Course Date Info:

Online camp will run from 9:00 a.m. to 3:00 p.m. each day.

Cost:
Prerequisites:
Students must be seriously interested in pursuing college academics. University Prep students must demonstrate maturity and responsibility.
Instructor: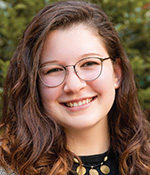 Brionna Johnson is a master's student at the University of Georgia's Institute of Higher Education studying Higher Education Administration. After completing undergraduate study at UGA, she worked for two years as a College Adviser through the Georgia College Advising Corps (GCAC). During her time as a GCAC adviser, Brionna was professionally trained to assist students from a wide range of backgrounds with college and career planning. She has extensive knowledge about match and fit student advising, financial aid protocols and processes, and the college application process in general. In her current role as a Graduate Assistant at the Institute of Higher Education, Brionna supports GCAC by training and developing college advisers who serve in various high schools across the state. This is her second year as a University Prep Instructor.
What you need for camp/program:
Students must have a computer or tablet that has Internet access and one of the following browsers installed: Google® Chrome™, Apple® Safari®, Mozilla® Firefox®, and Microsoft® Edge. Please visit Brightspace Browser Support in the Community for further details about the Browser Support Lifecycle.
Please look for the camp outline for required program supplies in your parent information e-mail sent three weeks before your program.